Registered Clinical Psychologist with the New Zealand Psychologists Board
Member of the New Zealand Psychology Society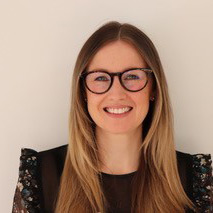 Rachael is a registered clinical psychologist with more than a decade of clinical experience. Rachael has worked with children, adolescents, and adults, across a variety of public and private health settings in both New Zealand and the United Kingdom.
Rachael has a particular interest in the relationship between physical health and emotional wellbeing and how these two areas interact. She studied a Bachelor of Science majoring in human anatomy and psychology at the University of Otago, then moved to Auckland to complete her Doctorate of Clinical Psychology at the University of Auckland.
Rachael's first specialist experience working with eating disorders was in 2016, at the Royal Free London CAMHS eating disorder service. Upon returning to New Zealand, she worked at the Kari Centre CAMHS as an Eating Disorder Liaison.
As a therapist, Rachael provides a warm, relaxed, and genuine approach. Rachael uses a range of evidence-based treatment approaches and is committed to 'what works' in psychology.
Rachael has training and experience using Family-Based Treatment (FBT) for Anorexia Nervosa and Bulimia Nervosa, Enhanced Cognitive Behavioural Therapy for Eating Disorders (CBT-E), Acceptance and Commitment therapy (ACT), mindfulness, Dialectical Behavioural Therapy (DBT), and Trauma Focused Cognitive Behavioural Therapy (TF-CBT). Rachael receives regular expert supervision and is committed to ongoing professional development to ensure she is providing the most up-to-date and effective evidence based treatments.
Rachael has always had an interest in working with adolescents and young adults, and this continues to be her area of passion. As a member of the NZEDC team, Rachael offers assessment and intervention to adolescents and adults experiencing difficulties with Anorexia Nervosa, Bulimia Nervosa, and Binge Eating Disorder and body image concerns.
Alongside the focus on eating issues, Rachael also has experience in working with a range of other areas including: anxiety, panic, depression, mood regulation, perfectionism, obsessive compulsive disorder (OCD), trauma, and psychosomatic symptoms.
Racheal is currently available to see clients and families on Wednesdays.